A Framework for Collaboration Across Borders and Sharing with Society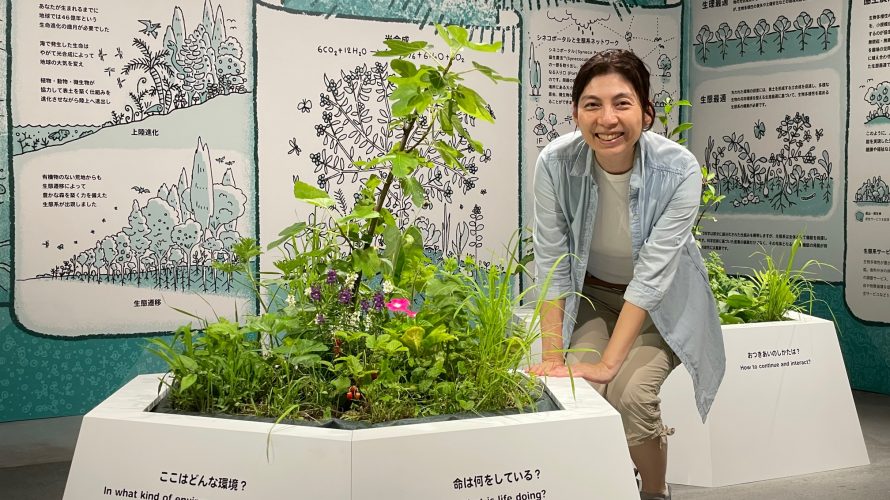 Yoko Honjo, who is also a board member of the Synecoculture Association, contributed an article to "T-POP News (No.206)," a newsletter published within the Sony Group by Sony Computer Science Laboratories (Sony CSL) , about her involvement in Synecoculture and Augmented Ecosystems as the head of communications at Sony CSL. The article is reprinted here with the permission of the parties concerned, after some revisions and additions.
---
A Framework for Collaboration Across Borders and Sharing with Society
On the roof of the seven-story Roppongi Hills Keyakizaka Complex, located in central Tokyo, there is a small garden. This garden, which has been there since the opening of Roppongi Hills, has trees that represent each of Japan's four seasons (cherry, maple, myrtle) as well as fields and rice paddies (the garden is not open to the public). In the garden, we have been running a pilot project of the Synecoculture and Augmented Ecosystems research advocated by Dr. Masatoshi Funabashi, senior researcher at Sony Computer Science Laboratories (Sony CSL) since 2019, meaning the project is now in its fourth year.(https://www.sonycsl.co.jp/press/prs20191029/)
When viewed from the high-rises of Roppongi Hills, the space, which feels like a reproduction of Japan's primeval landscape, looks quite small and charming. You'd never imagine finding a lovely garden like this on the roof of a building in central Tokyo. When I stand there and look up at the sky, my mind turns to thoughts of the cosmos, and I can even feel how I am one part of a big ecosystem network. I regularly visit the garden for maintenance, observation, and meetings. Almost without realizing it, my work with ecosystems has become an important part of my daily life.
In this article, I will give an overview of my involvement to this project, and discuss how it has developed. I would also like to propose a possible communication framework for disseminating research findings.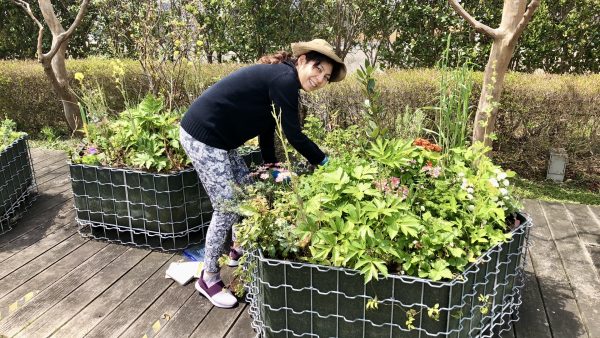 The story begins with the 2030 Agenda for Sustainable Development, adopted at a 2015 United Nations summit. The UN's Sustainable Development Goals began to receive attention, and with it, Dr. Masatoshi Funabashi started to get more media attention and enquiries on his research theme of Synecoculture and Augmented Ecosystems. At the time I was already in charge of Sony CSL's PR and communications, and as I dealt with the media, I became keenly aware of my lack of basic knowledge about topics like agriculture, sustainability and biodiversity, and my inability to properly explain Dr. Funabashi's research to third parties.
Right around then, the brand management division at Sony Group Corporation has contacted me proposing to make a video for Sony featuring Synecoculture.(https://www.youtube.com/watch?v=cQEr0vN7guM) I also had a chance to support The Farm (currently closed), a restaurant on the 13th floor of Sony Group headquarters, in providing food produced via Synecoculture.
During this process, I had opportunities to visit the Synecoculture farm in Ise City run by Sakura Shizenjuku, Co. or to be out in nature, but I must confess that I was still unable to fully grasp the ideas of ecosystems and biodiversity represented by Synecoculture & Augmented Ecosystems. I lived in a completely urban environment.
Then, an idea came to my mind. What if we had a Synecoculture and Augmented Ecosystems right nearby, a space that doubled as a showroom, where we could learn on our own and disseminate our research? In the building that Sony CSL calls home, I was told that tenants were not allowed to use the roof nor the first-floor common areas. So, I started looking at rental properties with gardens or balconies, and when I talked with Dr. Kitano, Sony CSL's president for his advice, he introduced me to an executive at Mori Building Co., Ltd. (hereafter, the Mori Building).
Then we held about six months of official discussions/negotiations with the Mori Building. Dr. Funabashi himself offered direct assistance at several points. After repeated discussions about the site and what experiments would be run on it, the following year, in March 2019, the Roppongi Hills rooftop garden pilot project commenced.
On this rooftop, me and a team of collaborators implemented Synecoculture and Augmented Ecosystems using the knowledge about the farming method described in the "Synecoculture Manual" written by Dr. Funabashi, and verified whether it was possible to generate an Augmented Ecosystem even in urban environments. In the gardens, we planted more than 200 species in a "mixed and dense" arrangement. Five special planters with three different soil patterns were installed, and over 100 species of plants, mainly vegetables and fruit trees, were placed around them. While maintaining and managing these plants, we continually observed changes in their growing conditions.
。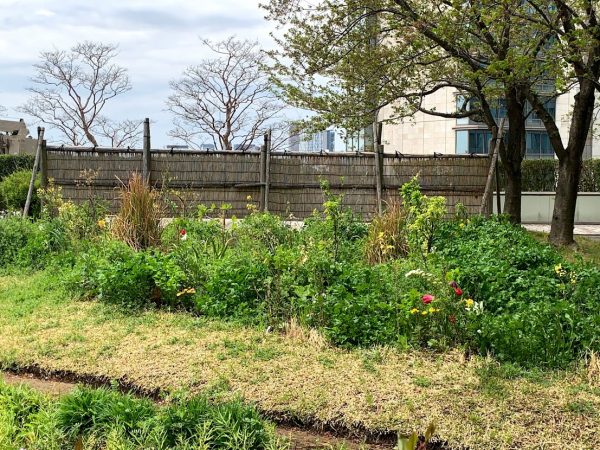 As we undertook this "dynamic preservation" of the Augmented Ecosystem, we constantly provided Dr. Funabashi and his research team with a place to undertake their research. Due to the strong winds on the roof, it was not possible to install sensors and other devices, but they have performed regular analysis of the soil, the water discharged by the planters, and so on. This data has since been used in published papers (paper 1 & paper 2) and book chapters. Also, the Sony Group Corporation Research & Development Center (RDC) has visited the rooftop garden to conduct trials using AR/VR technology. Moreover, a replica of the Roppongi Hills rooftop garden featuring an AR demo has been on display since March 2022 at Sony Square in the Sony Group Corporation main building (not open to the public).
Subsequently, but from the beginning, I recognized the importance of communicating about Synecoculture and Augmented Ecosystems in an accessible manner to the general public, and I have started efforts to this end as well.
To be more specific, as we implemented Synecoculture following the manual, we have set about presenting the various information gleaned from our project in the form of booklets and handouts.
Each step of my work on the rooftop has been done with the help of Mr. Kei Fukuda, formerly a designer at the Sony Creative Center (and currently one of our Synecoculture Navigators). And it was Kei who came up with the concept of "Syneco Portal," a small augmented ecosystem unit that would offer an entry point to learning about Synecoculture and Augmented Ecosystems. By allowing users to create their own "Syneco Portals," he designed an interface that would allow one to connect with one's local ecosystem and surrounding environment, as well as with other people making Syneco Portals in other places. The main reason that I had requested him to join the activities at the rooftop from the beginning was because I had previously worked with Kei on the creation of navigation guides for the Tokyo National Museum, and he was very good at boiling issues down to their essence and putting the execution of those issues in the proper context. I wanted to make sure that I could share awareness of the challenges of the new project with him from the start. Eventually Kei has become a great advisor to me about my own involvement with the Synecoculture and Augmented Ecosystems.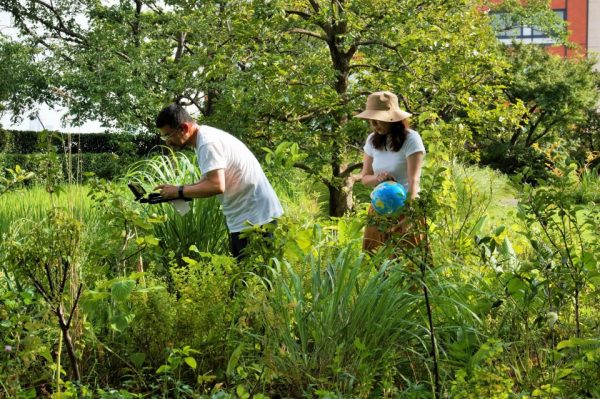 There is no one correct way to make the Syneco Portal and to understand an ecosystem. For that reason, I felt quite adrift when we started working on the implementation of Synecoculture and Augmented Ecosystems. Not to mention the fact that even when I could tell plants by their flowers or fruit, I could almost never identify them by their leaves—add to that all the insects and amphibians, and you have a recipe for endless frustration. In the beginning I remember recording the species we were planting one by one in the Syneco Portal, and adding nametags to them for reference.
When a plant withered in the summer heat, or bugs ate a plant I was trying to nurture, it hurt my heart. These days I can manage working alone in the garden, but back then I relied heavily on other people. If I had a question, I had members to whom I could ask, and I learned a lot simply by observing how others interacted with the ecosystem. Even now, in the project's fourth year, I still can't say that I really know how to interact with the ecosystem, but passing through three cycles of the four seasons on this rooftop garden, I have started to get a sense of this circulating ecosystem network, and I can feel how each plant large and small has its own rhythms.
With Dr. Funabashi's supervision, Kei and I are currently producing and making available to the public the Synecoculture Principles Learning Kit, a handbook that teaches you how Augmented Ecosystems work and how to create them. By following the handbook, anyone can actually create a Syneco Portal, where a variety of plants are mixed in high density. The resulting planter has the potential to become an entryway to continuously learn and experience "the functioning of ecosystem cycles" in the raw. Also, since the start of this year, and as part of a new initiative called CurioStep from Sony Group's educational arm, we are working with elementary and junior high schools across Japan to offer Syneco Portal Workshops, an official Sony environmental education program.
Further to the above positive results which were already more than what I had initially expected, I have discovered that the garden itself acted as a communication framework for sharing research findings with the society at large. The rooftop garden consisted with a variety of landscapes in addition to the Synecoculture garden, and a space like this allowed me to introduce the research theme on a broader context.
Human beings can relate to their ecosystems in a variety of ways, from monoculture fields to Augmented Ecosystems, and the countless options in between. I believe that the versatile possibilities the structure (which we call the "outfitting") of this place offers will galvanize visitors in ways beyond our own research, and potentially give rise to new inspiration that creates the next wave of ideas.
It seems to me that there are several prerequisites for our place to become such a communication framework. First, an underlying concept. In the case of the rooftop garden, this would be the Synecoculture and Augmented Ecosystems advocated by Dr. Funabashi: "Human involvement has the capacity of either shrinking or augmenting an ecosystem."
Next, the place should be led by someone with a "sense of ownership" over it. These "owners" do not necessarily need to be the researchers themselves. But they must set specific, definite goals and activities in relation to the concept. You leverage the preexisting context of the place, and the more diverse the perspectives from which you seek to understand the concept, the better the place will function.
Furthermore, working with collaborators who agree with our concept, and goals, would help disseminate the research. The wider the range of these collaborators, both specialty-wise and geographically, the more likely it will reach people with different interests.
Currently, we are trying to expand the same arrangement as Roppongi to other locations. It may take some time before we are able to produce any concrete results because the subject is the ecosystem, but I feel the possibility of an openness to the outside world. I hope that this will lead to a constellation of new places, a whole network of dots and lines.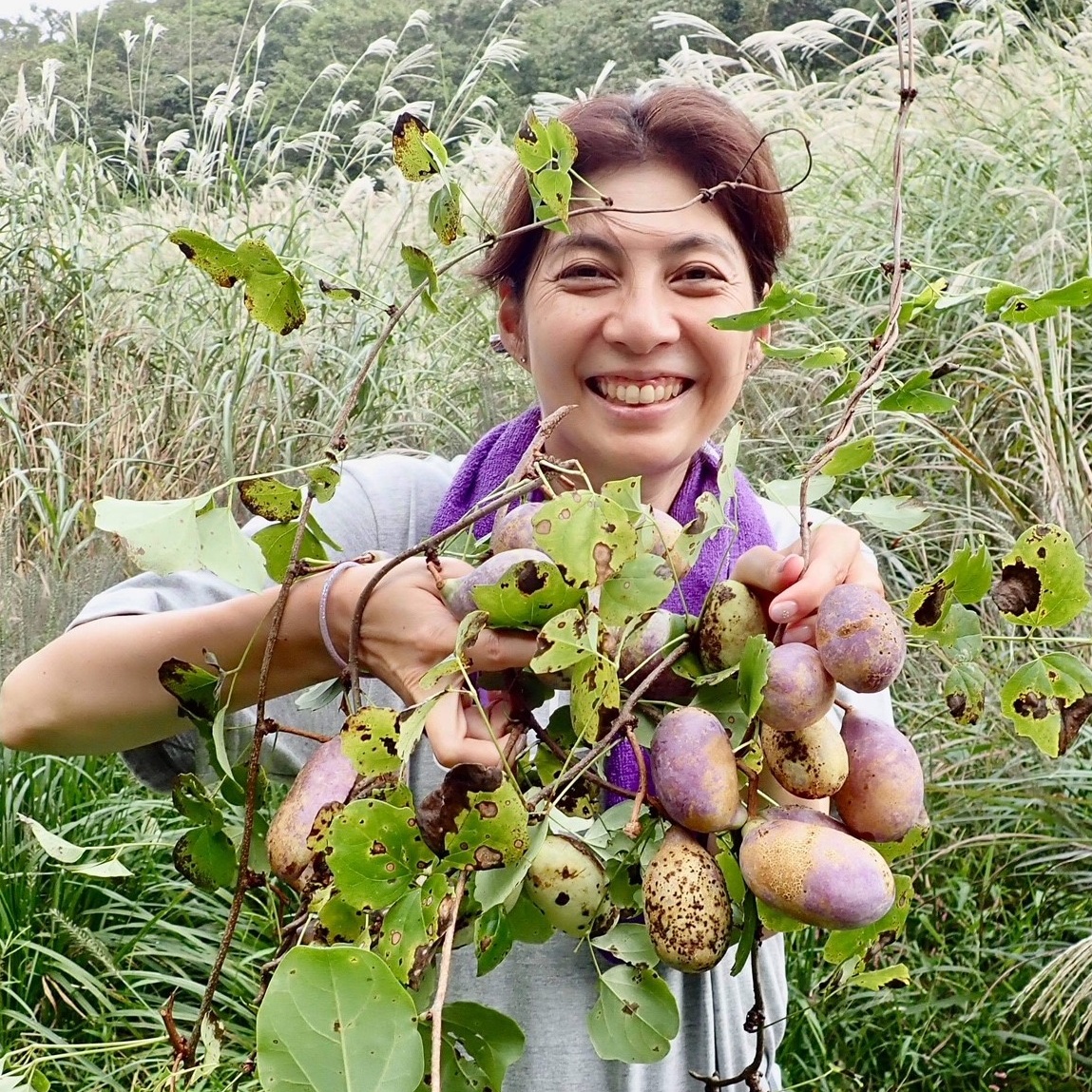 (Sony Computer Science Laboratories – Yoko Honjo)
前の記事

次の記事